Ultimate Survival Kit Improved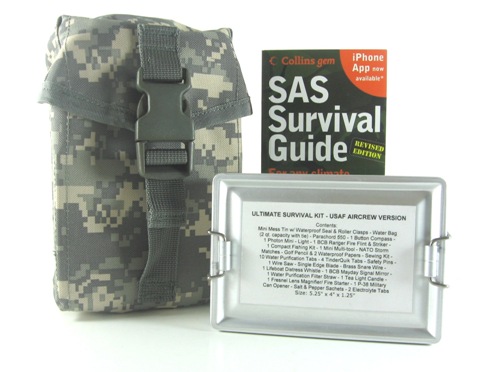 USAF Aircrew Version - New & Improved
The original BCB Ultimate Survival Kit, USAF Aircrew Version, was developed and modified in collaboration with the United States Air Force. It is based on the Ultimate Survival Kit (UK Version) but is better supplied and geared toward use by the US military (NATO approved NSN 8465-99-270-7742).
Now we have taken the USAF Aircrew Version of the Ultimate Survival Kit and improved it, still further, by upgrading some items and adding even more of the survival supplies that one might need in a survival situation.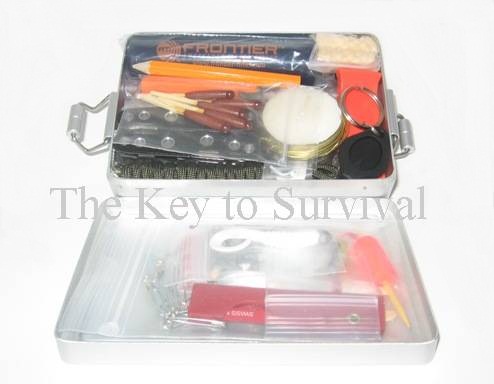 This is truly an Ultimate Survival Kit - a PSK "Pocket Survival Kit"!
This BCB Ultimate Survival Kit (Aircrew version) includes virtually every element required to help an individual survive in extreme conditions for up to 7 days. The Ultimate Survival Kit (USAF Aircrew Version) is standard equipment with numerous USAF squadrons throughout the US and overseas.
Since the BCB Ultimate Survival Kit (USAF Aircrew Version) is so extremely popular, we decided to rebuild it using all of the same quality BCB gear as the original. As for the most part, they are the identical, while in fact, MANY of the items are of better quality, and we have even included more survival items, so you will ultimately get more bang for your buck!

*The Compact Fishing Kit comes with more of the necessary items needed to help you procure food in an emergency situation. We've added the NATO Stormproof Matches (waterproof, windproof), in place of regular matches, because we feel that no kit should be without them, as is the case with the 7 strand 550 Parachord. As an added benefit, we've also thrown in a Fresnel Lens Magnifier/ backup Fire Starter (you can't have too many fire starters), a P-38 can opener (if you've ever been in the military, you know what they are), and 2 Electrolyte Tabs to help replenish your body of needed minerals that may have been lost in dehydration. Electrolyte tablets help minimize fatigue and prevent muscle cramps and heat prostration due to excessive perspiration.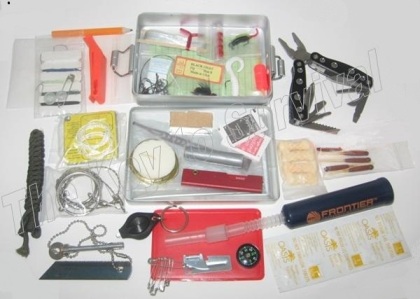 COMPARE THE TWO AND SEE THE DIFFERENCE!
BCB Ultimate Survival Kit
Original Version
USAF Aircrew version PLUS
* New improved Version
- Mini Mess Tin with roller clamps
- Nylon cord
- Button compass
- Small Tea Candle
- BCB Ranger Flint & Striker
- Fishing kit
- Tinder - tampons
- Mini multi-tool - pliers only
- Matches (regular)
- Sewing kit (small hard to thread eyelet needles, regular thread)
- Purification tablets
- Safety pins
- Single edge razor
- Salt sachets
- Signal mirror (not Mayday, lesser quality)
- Whistle (British Lifeboat whistle)
- Snare wire
- Wire saw (wire loops, no rings)
- Pencil
- Note Paper
- Water Filter Straw -Note: the BCB purification straw is no longer included in the Ultimate Survival Kit nor is it allowed in the US !
-Water bag

-Survival instructions (Survival instructions are minimal in the BCB kit).
We highly suggest the SAS Survival Handbook by John Wiseman for the best in total survival instructions. It is about the same size as the Ultimate Survival Kit and will fit perfectly with it together in our pouch - (see below)
- Mini Mess Tin with rubber seal & roller clamps
- *Parachord (550 - 7 strand strength)
- *Button Compass (20mm liquid filled)
- Small Tea Candle
- BCB Ranger Flint & Striker
- *Basic Fishing Kit (better quality)
- *TinderQuik Tabs (waterproof -burns longer)
- *Mini Multi-tool (better quality)
- *NATO Storm Matches
- *Sewing Kit (Heavy Duty Thread -2, #18,#20 lrg. eyelet Chenille Needles)
- *Aquatabs -10 ea.(EPA approved)
- Safety Pins
- Single edge razor or scalpel blade
- *Electrolyte Tabs- replaces salt
- *BCB Mayday Signal Mirror - better quality
- Whistle (lifeboat distress whistle)
- Snare Wire
- *Commando Wire Saw (BCB wire saw with rings)
- Pencil
- *2 sheets waterproof paper
- *Water Filter Straw - (optional, but highly recommended)


- *Whirlpak Standup Survival Water Bag

Also Included are:
- *Fresnel Lens (4X magnifier/backup fire starter)
- *P-38 military can opener (military classic)
- *Photon Micro-Light (below)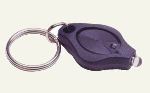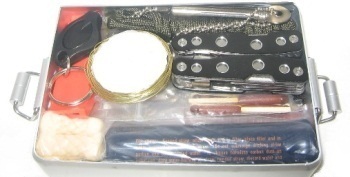 Ultimate Survival Kit PLUS
New and Improved USAF Aircrew Survival Kit

Contains all of the above gear with the following exceptions:
-Same as original BCB Ultimate kit, but with added and better quality items.
NOTE: This kit no longer includes the Aquamira Water Filter Straw, but can be purchased separately.

Weight: less than a pound
Size: 5.25" x 4" x 1.25"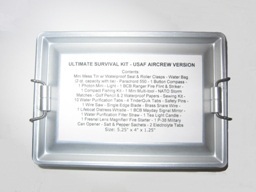 $89.95
See Also....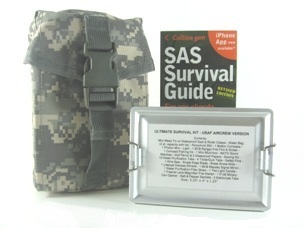 ACU Digital Cam Belt Pouch
This Belt Pouch is great for carrying your survival kit, and it will accommodate
the SAS Survival Guide as well, with a little room left over
for a Heatsheets Blanket, poncho, etc.
Digital Camo Belt Pouch
Note: This Belt Pouch can also be purchased in multicam

$11.95
SAS Survival Guide
Not only is the SAS Survival Guide one of the best guides on the subject of survival of all times, but this compact guide, being approximately the same size as the Ultimate Survival Kit makes it a perfect companion to fit it in the pouch above.
7.95